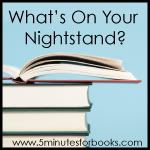 I guess that I must have missed last month, so this will actually be for both September and October. I have read several books, so I will start with those first.
Books Read:
For a few of the books I have done reviews, below are the links to them:
Emma
Born of Persuasion
For Every Season
Hopelifter
Below are the books that I have continued to read from last month, just started this week or will be starting this week:
What is on your list?