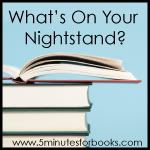 I didn't get as much accomplished as I had previously thought I would be able to over this month. Not sure how much I will get accomplished on my to do list for the Classic Club, but looking forward to some of the books I will get from publishers. Classes started last week and I will be reading as a stress reliever for sure!
Reviews of Books that I Read
:
Forever Friday
-This advanced reader's copy is being given away, check out the link in order to sign up for it. End's today!!!!
A Bride For All Seasons
The Winnowing Season
Currently Reading
:
Emma-really enjoying it so far
Need to start for the Classic Club from last month
:
Sense and Sensibility
The Railway Children
Heart of Darkness
Jane Eyre for this month's Spin book
Read and Review for Booksneeze
:
I will be reading
Hopelifter
Read and Review for Blogging For Books:
I will be reading
For Every Season
Read and Review for Tyndale:
I will be reading
Born of Persuasion